What is OI Labs.ai?
OI Labs.ai is a playground for Orion and our clients to experiment with the latest tools and technologies, develop prototypes, and test new ideas. The lab is a vehicle to continuously experiment and research major technologies, solution strategies, methodologies, and tools in the rapidly evolving Generative AI space. The lab has the necessary infrastructure such as hardware, software licenses, access to our partner tools, and the required skilled resources to bring it all together.
Experimentation
Our team is continuously developing both proactive and customer-specific proof of concepts as well as reusable frameworks and accelerators that can benefit our clients. Our team regularly publishes research papers in this field contributing to the community and sharing our knowledge.
Collaboration
OI Labs.ai is also our platform for fostering creativity. We source ideas from our diverse customer base and global team members to prototype new solution ideas. The lab engages with a start-up ecosystem to collaborate with and incubate emerging products and solutions. We combine our technology expertise in cloud, data, machine learning, AI, and security with domain expertise in our core industry verticals to drive a holistic approach to solving your unique problems.
Showcase
OI Labs.ai serves as a showcase of various solutions, prototypes, and our thought leadership in the Generative AI space. One recent example of our prototype is our purpose-driven digital assistants.
OUR FOCUS
Generative AI Tech Stack
Generative AI is not just another application that one builds. It brings in an entirely new technology stack that requires expertise and knowledge across the stack. Orion's core focus is on building Generative AI applications. However, we are also capable of helping you select the right off-the-shelf Foundation Models to deploy solutions in the cloud or on-premise, leveraging the right hardware for your problem.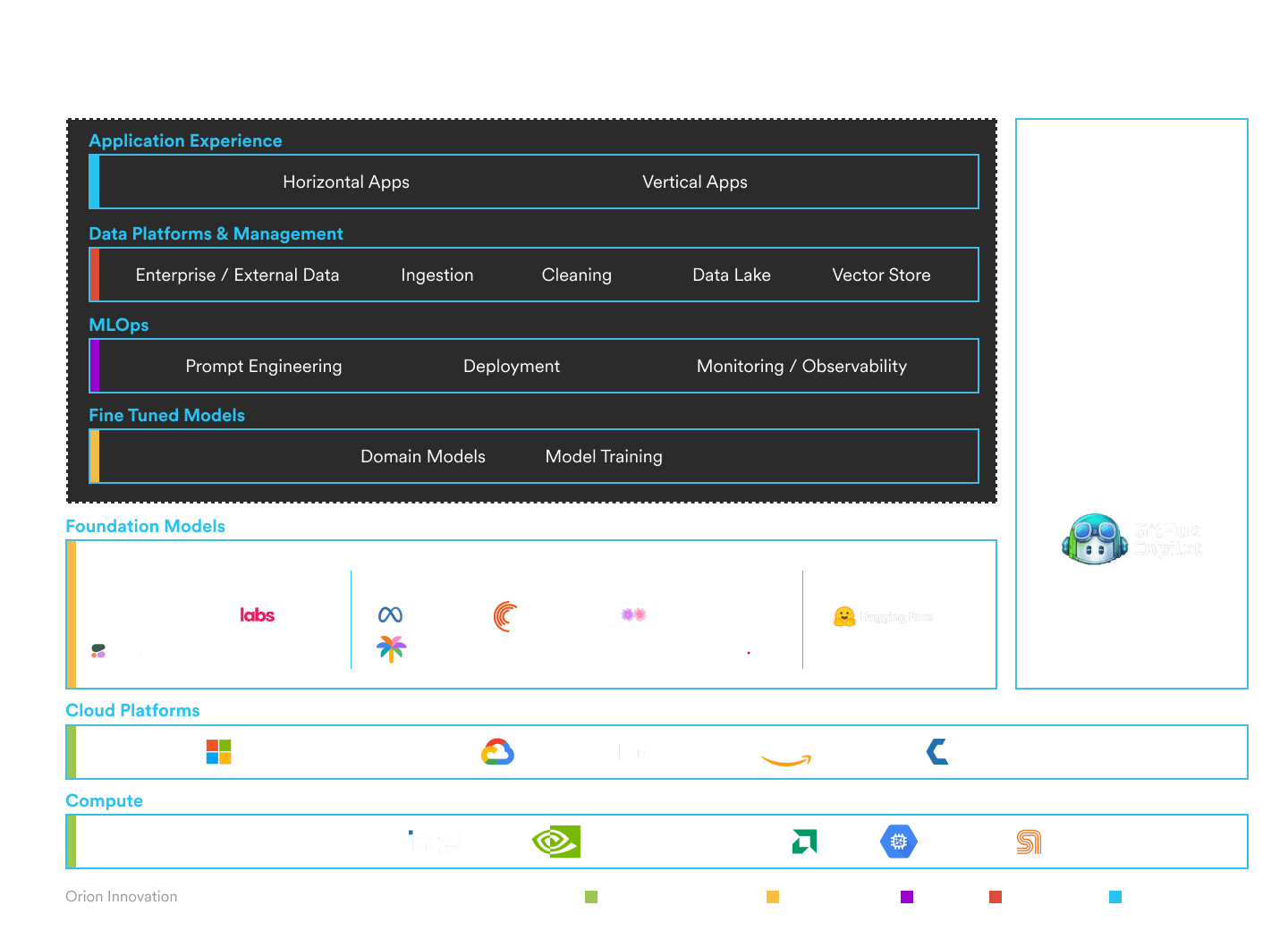 Key Tenets of Our Solutions
Actionable
Our lab ensures that Orion keeps an eye on the future while staying realistic about the near horizon. We focus on solutions that can be solved with today's technologies – that are here and now.
Our approach drives immediate business value creation.
Tech and Domain Expertise
We understand the business environment of companies in the core verticals we service. Applying our deep domain knowledge ensures that the Generative AI solutions have higher model accuracy with better transparency and explainability.
Our approach drives highly tailored solutions to your problem domain.
Secure and Private
Security and privacy are paramount when deploying Generative AI solutions in an enterprise setting. Furthermore, we strive to deliver unbiased and fair solutions.
Our approach emphasizes trust and data security, essential for the adoption and success of Generative AI solutions.