Designing based on assumptions will only get you so far. Hearing from those working directly with digital systems provides new and nuanced understanding of how well your product works. Orion examines the driving force behind user actions at heart of the digital experience, as well as the larger constellation of touch points with audiences.
OUR CAPABILITIES
Research with purpose
UX Analysis
Examining brand messaging, usability, and information architecture of an existing digital experience with an emphasis on identifying strengths and weaknesses, and potential solutions to consider.
User/Stakeholder Interviews
Conducting interviews with key product user-types and stakeholders to identify critical needs and tasks to be accomplished, to gain knowledge of the context of user interactions, and to unearth major challenges. Identified goals form the criteria by which future decisions are measured.
User Testing
Testing interactive prototypes with selected product users to evaluate product usability, including clarity, intuitiveness, and efficiency of completion of critical tasks. Results are documented and reviewed as a source of insights and recommendations for further product refinement.
User Surveys
Soliciting comments from target audiences brings invaluable insight that drive product features, functions and experiences–be it digital surveys and polls to informal feedback at from passers-by.
OUR APPROACH
Modes of Discovery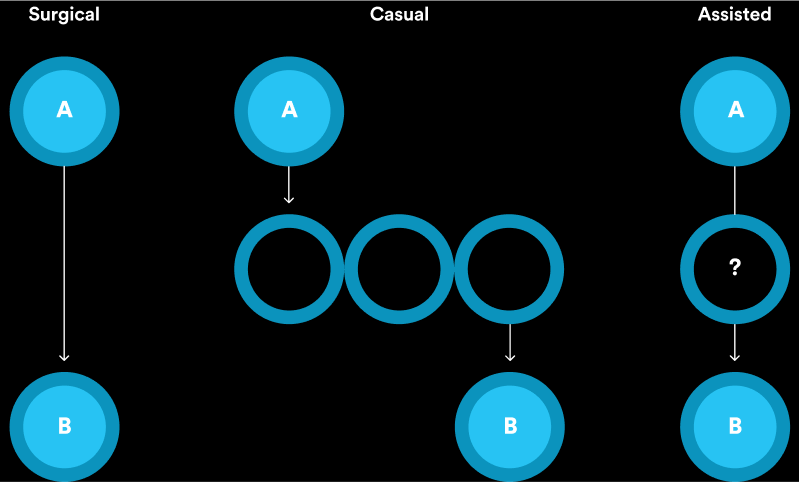 Surgical wayfinding gets users from point A to point B quickly. This includes identifying best practices for site search and page structures.
Casual wayfinding supports users who rely on the site's content organization to surface relevant information.
Assisted wayfinding include guides that present relevant content based on user responses, offering a series of steps to reach a goal.